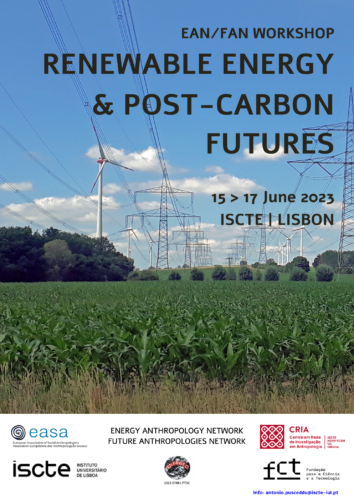 In June 2023, Julia Schwab (JLU) participated in the biennial Energy Anthropology Network Workshop in Lisbon on "Renewable Energy & Post-Carbon Futures". The workshop was held in collaboration with the EASA Futures Anthropology Network (FAN) together with CRIA (Centro em Rede de Investigação em Antropologia) at the Insituto Universitário de Lisboa (ISCTE). Julia was able to present and discuss her preliminary results on "Temporalities in Friction: Temporal Violence and Planning in the Ecuadorian Amazon" within the thematic group on "Climate Colonialism". On the EAN website there will be a blog post on "Realizing a Future 'Otherwise': A material claim about planning and future-making" available soon. It resulted as a reflection in the aftermath of the discussions Julia had during the workshop.

The workshop culminated with a fieldtrip to Cercal do Alentejo and Sines, where projects for large-scale photovoltaic parks and hydrogen coexist uneasily with the region's carbon-intensive energy pasts. In Cercal do Alentejo, we met with Sérgio, a member of the civic movement "Juntos pelo Cercal" (Together for Cercal) that opposes a large-scale photovoltaic project on agricultural land. In Sines, an industrial town historically shaped by the presence of Portugal's largest coal-fired power plant, we met with Egídio, a former worker at the plant and union leader, who talked to us about the controversial closure of the plant and plans to turn Sines into a green energy hotspot through hydrogen and solar parks.
Peters, S. & J. Schwab: HELSUS Global South Encounters webinar: Opportunities and Challenges of the Just Energy Transition for Latin America
The Global South Encounters (GSE) is the main 'voice' of the Global South theme of the Helsinki Institute of Sustainability Science (HELSUS). Recognizing the complexities and peculiarities of the Global South, the GSEs engage both 'conventional wisdom' in mainstream sustainability science and the 'Western Left Consensus'. The aim is to develop transformative Southern alternatives. Prof. Dr. Stefan Peters is a guest speaker at this year's HELSUS Global South Encounters webinar on "Opportunities and Challenges of the Just Energy Transition for Latin America". The event will take place on October 31, 2023, at 3.00 – 4.00pm (Helsinki, UTC +3)/ 14:00-15:00 (Berlin, UTC +2)/ 09:00-10:00 (Buenos Aires, UTC -3).
Latin America is historically a natural resource-dependent region. This includes the extraction and export of fossil fuels, minerals and cash crops. However, in recent times, the region has been considered a strategic partner for the energy transition in the global north. This is both due to its potential for renewable energy (wind, solar) for generating green hydrogen but also because of its abundance in critical minerals for the energy transition (copper, lithium, cobalt, rare earths etc.). Focussing on Argentina and Colombia, the talk will reflect on the opportunities and challenges of the energy transition for Latin America. It will especially highlight the risks of a reloaded (green) extractivism and discuss alternatives towards a just energy transformation.
Combariza, N. & J. Schwab (03.2023: Workshop on Post-Fossil Futures (as part of NISANA Forum on Social Climate Change Impacts in the Global South in Santa Marta)
This workshop was organized by Nadia Combariza (NISANSA fellow, JLU) and Julia Schwab (JLU) as part of the NISANSA Forum: Social Impacts of Climate Change in the Global South" that took place in March 2023 in Santa Marta, Colombia. It approached the future as an open, but colonized, temporal space. Open, because we can influence it by changing policies, practices and values, among others. Colonized, because there are certain dynamics and challenges that are beyond our control or even irreversible, such as climate change and the impacts of extractivism. To explore what the future could and/or should be like in the year 2045, on the one hand we have imagined with participants from academia and social movements what a desirable future implies and what needs to be done to get there, and on the other hand what role global (and also national) challenges such as energy transition play in these future scenarios. Future thinking focuses in particular on the long term in order to imagine futures that are distinctly different from the present, which allows us to generate a comprehensive vision of how to carry out social transformation in a participatory and collaborative way.